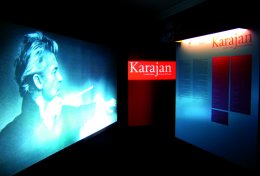 Milan, La Scala Theatre Museum, 8 October 2008-31 March 2009.
Exhibition curated by Vittoria Crespi Morbio.
Exhibition design: GeA Giulia Bonaldi and Anusc Castiglioni set designers.
Graphic design: Raffaella Colutto, Silvia Sfigiotti / alizarina.
Multimedia design: StalkerVideo.
Direction: Luca Scarzella. Exhibition promoted by Fondazione Milano per la Scala.
‹ Collection 'La scienza scenica' ›
In collaboration with Teatro alla Scala – Eliette und Herbert von Karajan Institut. Edited by Vittoria Crespi Morbio. A tribute from Eliette von Karajan. Essay by Vittoria Crespi Morbio, Francesco Maria Colombo, Beyond the Eye. Herbert von Karajan, the Icon. Correnspondence with Carlos Kleiber. Appendices:  Herbert von Karajan (1908-1989), a biography by Barbara Diesner. Umberto Allemandi & C, Turin, 2008. Collection «Stage Science». Italian and English edition, pp.117.